---
DEC 27 10: I know I haven't logged all those Doom Patrol appearances, but I had to mention the exciting news: Ambush Bug is in the new video game DC Universe Online! Available for PS3 and PC in January, this MMO lets players create a new hero or villain and fight alongside the DCU's famous cast. Ambush Bug can be found hanging out in the Hall of Doom, managing a free daily loot game. Check out some screenshots and a movie of the HIGHLY DIGITAL, THOROUGHLY VIDEO GAMEY Ambush Bug in action right here!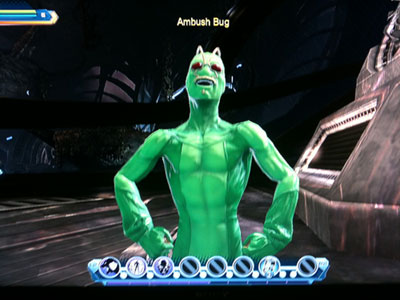 APR 05 10: CBR reports that Ambush Bug will be seen in Giff's new Doom Patrol series.
FEB 23 09: Something else I needed to catch everybody up on... Year None on NBC's "Chuck"! Fan Chris Hansen sent us a screenshot of an episode from last December, where Morgan Grimes is clearly seen reading DC's finest non-Final Crisis book of the year! It's Ambush Bug's world, baby. We just live in it.

FEB 22 09: I finally got caught up with two years worth of fan mail tips and scans! I'm a terrible fanboy, I know. The upshot is, the Archive now has another handful of new unreported cameos of our beloved Bug! Check out the additions to 1986, 1990, 1998, 2003, 2004 and 2007! I'm sure my counts on Cameos/Misc/etc are now way off.
JULY 02 08: Check out Ambush Bug's appearance in this week's DC Nation column, more evidence of DC's strong push to make Year None a major event. Furthermore, Agent #23 Anthony1776 emails that Year None #1 will ship with a 1-in-10 variant cover, and August will see the release of DC Universe Special: Ambush Bug, which reprints a heap of very early Bug stories. Excellent! [UPDATE: the Special seems to have been cancelled, perhaps in anticipation of an Ambush Bug Showcase edition.]
JUNE 07 08: The countdown to Year None is on, and DC seems to be celebrating with a full-page Ambush Bug house ad, seen in some of this week's books (mine was in JSA #16). The Bug appears in a parody of the villain-based house ads DC has been running, where they take big league baddies like Luthor and Mongul and pair them with a Successories-style message. Here's the ad, scanned in by Agent #13 Paul!
JAN 30 08: New Ambush Bug miniseries! Keith Giffen and Robert Loren Fleming return for six issue miniseries that spans and spoofs Identity Crisis through Final Crisis! All in full color! Fantastic Newsarama interview with Giffen and DC editor Jann Jones has more official Bug talk than we've heard in years!
OCT 23 07: Jason sent us the wonderful Ambush Bug custom fig (in balloons!) that was done by a guy named Baloonatic over on the HeroClix Realms website. Incredible!

FEB 18 07: The ABA regrets to hear that Bob Oksner has passed away (report via Mark Evanier). Mr. Oksner was in comics since the beginning (1939!), and still found the patience to ink the majority of Ambush Bug's formative adventures in the early-to-mid '80s.
JAN 30 07: Thanks to two Agents operating independently, the Archive now has full page scans of the entirety of the 1985 Amazing Heroes article! This missing lore showcases the Bug in his prime. It's a can't-miss read for fans! Thanks Dan and Loren for your creepily simultaneous scan delivery!
OCT 08 06: According to my count, Ambush Bug's miraculous appearance in 52 #24 is actually his 24th "true" appearance in a DC comic. This does not include all the crazy cameos and alternate universe stuff! Bow to Giffen!
JUNE 06 06: This archive of a DC Wizard World Philadelphia panel discussion contains vague language that might verify Ambush Bug's appearance in DC's high-concept weekly book, 52.
FEB 08 04: Julius Schwartz - comic book legend and one of the architects of DC's Silver Age - has passed away at the age of 88. Julie was Ambush Bug's editor during his heyday and was often featured in the books. We salute you, Julie. You are missed. (So let's all take one last look at Julie's vacation slides!)
JUNE 03 03:As reported by Comic Book Resources, Ambush Bug will make his first genuine comic book appearance since 1992's Nothing Special! He'll be showing up in Lobo Unbound #4-6 (starting in November '03), pairing him with Keith Giffen's other fan-favorite character, Lobo. The ABA would like to thank Comic Book Resources for linking to the Archive as part of their article, which is kinda like the comic book equivalent of being slashdotted. Also, thanks to all the fans who emailed about the Lobo appearances!
---
Bookmark the Ambush Bug Archive at www.fourhman.com/ambushbug.
If you know of any Ambush Bug appearances, cameos and mentions, please send me an e-mail. I will post reported appearances, verify them (once I can find the book!) and credit you as the reporting agent. Here's the Ambush Bug Agents on the case so far (Thanks folks, for your hot tips and pics!):
Agent #001: StocDred
Agent #002: Squashua
Agent #003: Jason Kirk
Agent #004: IRWINSCHWAB
Agent #005: mike jozic
Agent #006: steve
Agent #007: Hallie
Agent #008: Tenzel Kim
Agent #009: Joe G.
Agent #010: Javier
Agent #011: Scott
Agent #012: Kevin
Agent #013: Paul
Agent #014: Steve
Agent #015: DIOS
Agent #016: Dan Marco
Agent #017: Charles-David
Agent #018: Chris
Agent #019: Sean
Agent #020: buffycomic
Agent #021: tdodsong
Agent #022: Loren
Agent #023: Anthony1776
Agent #024: Michael E. Potter
Agent #025: Fabian Ironside
Agent #026: Jason
Agent #027: Chad Malone
Agent #028: Chris Hansen
Agent #029: Jennifer G.
Agent #030: Doktor Aies